Policy briefs
The PROMISE project prepared policy briefings aimed at policy makers and practitioners. Every case study produced their own policy briefings and a separate European policy briefing addresses the policy makers on the European level. Please scroll down to download the European and individual policy briefings or click on the following link to download all briefings collated in one document:
Collated PROMISE Policy Briefs – March 2019
Click here for short videos on PROMISE recommendations
European policy brief
PROMISE explored the ways young people with a history of stigmatisation or conflict participate in society. The focus was on the different ways they engage with social, environmental and political issues, and how they create opportunities for social change. The following recommendations on Promoting Youth Involvement and Social Engagement in Europe are based on ethnographic case studies with young people and quantitative research using the European Value Survey and other secondary data sources.
Our results show that to support the development and implementation of policies to promote youth involvement and social engagement, European countries need a variety of measures. Member States need effective policies to encompass youth support in all areas (educational, employment, social) to make all voices heard, especially those of young people facing multiple life challenges. Therefore, they should:
Recognise diverse life paths of young people
Enhance the recognition and support of youth-led initiatives
Promote support structures for young people
Create safe (urban) spaces for youth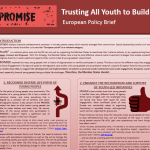 European Policy Brief 2018_PROMISE_Trusting all youth to build a better Europe (report)
PROMISE European Policy Brief poster April 2019
Click here for short videos on PROMISE recommendations