Past event: PROMISE Final Conference
********For PROMISE VIDEO STREAMS from the conference click here*******
**PLEASE SCROLL DOWN TO ACCESS THE PRESENTATIONS, VIDEOS, AND PICTURES FROM THE PAST EVENT**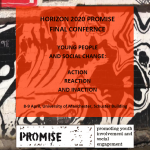 The Promise Final conference was held on 8-9 April 2019 at the University of Manchester.
A full and ambitious programme of activities (Promise Programme 8_9 April 2019) had been planned, including discussion, creative performances and exhibitions under the theme "Young People and Social Change: Action, Reaction and Inaction".
Keynote speeches:
Andy Burnham (Mayor of Greater Manchester)
Kerstin Wilde (European Commission)
Panel discussion with Denise Chircop (European Parliament)
Denise Chircop, Policy Analyst @EP_ThinkTank European Parliamentary Research Service (EPRS) joined us from Brussels for the panel:
Trusting all youth to build a better Europe – Panel discussion on key findings and implication for practice and policy.
Denise Chircop is policy analyst working with the European Parliamentary Research Service. She has an expertise in youth and education and has published a number of key policy briefings on subjects like the European Youth Strategy, the European Solidarity Corps, Erasmus and Lifelong Learning in the EU. Before joining the European Parliament, she had studied the dynamics of long-term school absenteeism in Malta.
Workshops run by young people and activists: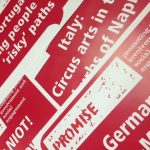 Italy – NoTav: Stigma as a driver for social change (Susa Valley).
Spain – Jorge Ramírez Escude and Ilham Arbine Arbai (Casal dels Infants del Raval, Barcelona).
Spain– Nieves Frias and Architect Santiago Cirugeda (Recetas Urbanas / Urban Prescriptions).
Estonia – Hip hop artist, Kaur Kippel.
Italy – Il Tappeto di Iqbal- Circus group, Naples.
UK– Thalaya Darr- Spoken word poetry for social change.
Germany– Ronald de Haan, Youth engagement: a youth worker's perspective(Jongerenwerk)
Representatives of youth organisations:
Panel discussants consisted of representatives from PARTISPACE, RECLAIM, Together Trust, Inclusion Network, Framework-DE, YES Forum and more.
With presentations by PROMISE partners, creative workshops, exhibitions, video messages and much more.
Concluded with…
A musical poetry performance by Aidan Jolly and Sai Murray (Virtual Migrants, UK) highlighting the themes and key messages of the conference.
To download the full programme please follow this link: Promise Programme 8_9 April 2019
#H2020PROMISE
PROMISE final conference: presentations
Please see the PROMISE VIDEO MONTAGE with a brief overview over the 22 ethnographic case studies  produced by our partner YES FORUM
Below are all the presentations from the conference:
Setting the context of PROMISE
Alternative, imaginative and innovative participation.
PROMISE conference 2019_Findings from the PROMISE Youth Survey_Markina, Rein
PROMISE conference 2019_Quant, Israel_Youth involvement; a baseline data
PROMISE conference 2019_Recognising diversity of participation, making youth involvement visible_Acik
Youth-quakes? Desires, Needs and Actions.
What enhances or inhibits youth involvement?  Discussion of cluster analysis findings.
PROMISE conference 2019_Introduction to cluster analyses_ Pilkington
PROMISE conference 2019_Cluster 1_Education, Justice, Society_Matos
PROMISE conference 2019_Cluster 2_Politics, Culture_Daehnke, Mueller-Bachman
PROMISE conference 2019_Cluster 3_Economy, Leisure_Perasovic, Mustapic
PROMISE conference 2019_Cluster 4_Gender, Society_Nartova, Shilova
Trusting all youth to build a better Europe
Panel discussion on key findings and implication for practice and policy.
PROMISE conference 2019_YES FORUM_Besche_Four main recommendations from PROMISE with Annett Wiedermann & Fabian Besche; YES Forum
Video of the PROMISE project, produced by Robin Höft (Framework)
Short video statement from across Europe on PROMISE, from MEP Terry Reintke
Video message by Wajid Kahn, MEP for North West of England (Labour Party, United Kingdom), discussing the importance of the Horizon2020 PROMISE project
Moving towards alternative participation: from discussion to games to direct action
Parallel workshops for policy makers, professionals, youth groups and academics.
PROMISE conference 2019_WORKSHOP_Quant, Israel, Markina_Context matters
Presentations by young participants
SPOTLIGHT ON…
Eclectic performances and presentations from the youth groups at the heart of PROMISE
Antifascists: Demonstrations and Art. Short Film, Germany
Jorge Ramírez Escude (1NT3GRA2 (VOS Àrab)) and Ilham Arbine Arbai (Musulwoman) from Casal dels Infants del Raval Barcelona [videos and commentaries about the experience of being young in el Raval] Spain
YES Forum presenting the work of the 'youth friendly city' workshop
Kaur Kippel, Hip-hop performance, Estonia .
Performance by Aidan Jolly and Sai Murray (Virtual Migrants, UK) and Thalaya Darr (UK)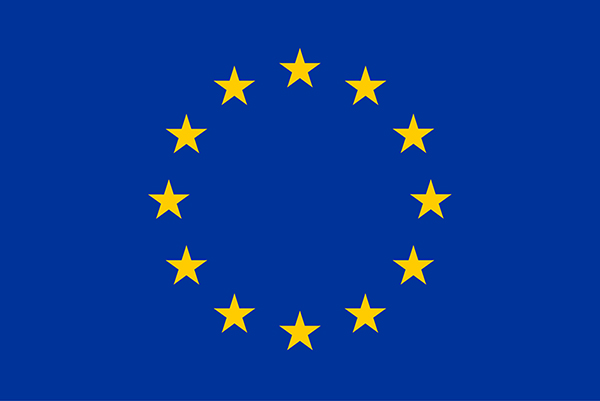 Grant Agreement no. 693221