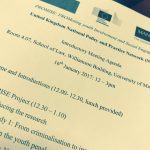 Early in January 2017, we held our first meeting with our UK National Policy and Practice Network (NPPN) at The University of Manchester. It was a constructive and energetic meeting with a range of youth experts from across several organisations who have many years of experience working with young people. The meeting was very timely, coinciding with the planning of our fieldwork for the two case studies that are taking place in Manchester, and the input of the NPPN members in helping to develop these plans was very helpful. There are two case studies being conducted for the PROMISE project in Manchester:
Case study 1: From criminalisation to innovation: creative opportunities and activities in the youth penal voluntary sector.
Case study 2: Youth mobilisations of 'suspect communities'.
The small group discussions at the NPPN meeting were particularly valuable to us. One discussion centred around models of engagement with young people and how to make the research relevant to them, with the very useful suggestion that PROMISE could facilitate young people's access to the university environment and their participation in the research team. This would ensure the project is connected with young people, as well as both valuing their contribution and inspiring them.
PROMISE's ethos is very much around building long lasting relationships and collaborations that are reciprocal and beneficial to everybody involved. NPPN members suggested a range of options through which the PROMISE team could support their organisations. These included, amongst other things, active engagement with their organisation and events they hold, providing feedback on on-going projects, and using our outputs and events to empower young people
The next NPPN meeting will be in late summer or early autumn 2017, around the time that our fieldwork draws to a close and moves into the analysis phase. We look forward to bringing the network back together to discuss our findings and consider options for dissemination. Details and links to our UK NPPN members and their organisations will be posted on the PROMISE website soon!