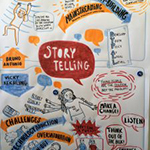 PROMISE team members linked in with colleagues from across Europe at the Youth Partnership Symposium held in Prague from 12 -14 June.  Project coordinator, Jo Deakin, University of Manchester, and team member, Katerina Konecna from the YES Forum, took part in discussions and activities over the 3-day meeting, presenting the PROMISE project as part of a Youth Policy Fair to over 100 delegates.
This year's Youth Partnership Symposium focused on themes of Identity and Belonging, Solidarity and Democracy, and Activity and Occupation. As we discussed each theme, examples of good (and bad) practice from across Europe were presented and analysed.
Highlights for PROMISE were:
discussing 'youth experience' with young activists;
meeting like-minded and forward thinking policy makers and practitioners;
hearing support for PROMISE aims and methods from all quarters;
seeing summaries of our discussions presented in graphic form (see picture).
Contacts from the Symposium will join our European Policy Network (EPN) that will be holding its first meeting in Brussels on 4 July. Watch this space for an update of the EPN meeting.