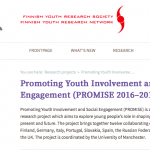 Our Finnish Youth Research Network (FYRN) PROMISE partner have now launched their PROMISE project webpage. The new webpage provides an overview of the PROMISE project in both English and Finnish and the contact details of the Finnish team. The site also links up with the main PROMISE website's news feed and also features our Twitter feed.
The FYRN is an established youth focused, non-profit organization that has an impressive track record of activities and projects working with young people, policy makers, frontline practitioners and researchers in the field of youth work and youth policy.
Visit the FYRN webpage to learn more about the team and their involvement in the PROMISE project.