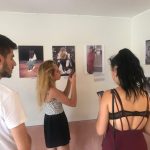 The PROMISE Portuguese National Policy and Practice Network (NPPN) met again but this time to discuss the key findings of the two ethnographic case studies. The two Portuguese case studies have been completed and the reports are available now on the PROMISE web site. The NPPN meeting was also attended by some of the young participants of the 'Risk' case study.
'How is it to be young nowadays?' A photo exhibition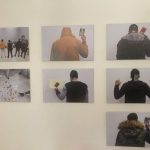 At the opening of the second meeting of the Portuguese NPPN, held at the Catholic University of Porto on June 20, 2018, some of the young people who participated in the "Risk" ethnographic case study met with the members of the NPPN and presented the photographs they took as a result of the photo elicitation exercises carried out during fieldwork (see @H2020PROMISE tweet). These pictures and respective subtitles represented their views on how it is to be young nowadays, and reflected some of the difficulties, struggles and aims they face in their lives. The youngsters were quite proud to exhibit their work and all partners considered it a valuable contribution to disseminate young people's voice regarding youth conflict and social participation. See below for links to the case study reports.
The national partners meeting
The second meeting of the PROMISE Portuguese NPPN gathered representatives from different public, academic and civil society organizations working with youth, as well as from different youth organizations, to have a first glimpse and discuss the key results of the two ethnographic case studies carried out in Portugal. The partners highlighted the relevance of these findings, particularly the ones regarding intergenerational relations and identity related stigmatisation, and stressed the need for these to reach a wider audience of young people and practitioners. Several dissemination strategies were suggested for the project's final year, particularly engaging and putting together different groups of young people and key professionals and decision makers working with youth.
Final reports of the ethnographic case studies
The Portuguese case studies have now been completed and the final reports are available via the Promise website:
Young Gender Activists, Raquel Matos, Alexandra Carneiro, Filipe Martins, Luísa Campos, Luísa Ribeiro, Mariana Negrão [PORTUGAL]
Young people with paths of psychosocial risk and deviant behaviour, Raquel Matos, Filipe Martins, Alexandra Carneiro, Luísa Campos, Luísa Ribeiro and Mariana Negrão [PORTUGAL]
To view all ethnographic case studies follow the link below.
https://www.promise.manchester.ac.uk/en/ethnographic-case-studies/