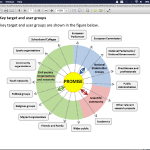 As part of our project, the PROMISE team are committed to ensuring that the hard work that goes on across all of our 12 partners is effectively disseminated to all of our research partner organisations, participants, the academic community, policy makers and practitioners, as well as the wider public, in particular to young people. The Plan for the Exploitation and Dissemination of Results (also know as PEDR) provides a clear set of objectives and sets up a comprehensive strategy outlining how the key developments, findings and outputs of the PROMISE project will be publicized and shared.
The PEDR is a living document that will be updated throughout the project, detailing what new knowledge will be generated by the PROMISE project, who will use these results and the various ways that we intend to share them. The variety of key groups who are likely to benefit from the PROMISE project results can be found in the PEDR above (and see above graphic) alongside detailed information on the dissemination strategy, tools and management.
All of the PROMISE project reports and outputs, including the PEDR, can be found on our 'Research Impact' pages.
Stay updated with all the PROMISE project news, including the publication of key reports, by following us on Twitter and Instagram, and checking back for more newsfeed posts!