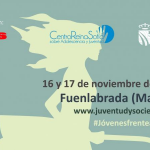 PROMISE partners at the Universitat Autònoma de Barcelona (UAB) in Spain presented the first results of their PROMISE case studies at the II Conference on Youth and Society (II Jornadas de Juventud y Sociedad)  in Madrid on the 16th and 17th November 2017.
The Youth and Society conference aimed at covering the strategies that young people follow in order to overcome the economic crisis, focusing on: employment, housing, migration, political activism, and public policies.
The Fieldwork
The PROMISE team presented the project objectives, methodology and first results obtained on the fieldwork on the two Spanish case studies: initiatives to overcome the needs in housing and public facilities, and ways of dealing with irregular life trajectories.
Initial Findings
The findings show how young people from different backgrounds are able to engage in individual and collective initiatives that make a difference, both to the individuals themselves and also within society. However, in addition to the diversity and inequality between the young people, there are serious institutional obstacles that restrict the scope and generalizability of these initiatives.
Visit the UAB website for more information about their case studies in Spanish. Follow PROMISE on twitter to catch up on our latest newsfeeds.