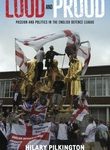 PROMISE member Prof. Hilary Pilkington from The University of Manchester has won the prestigious BBC Radio 4 Thinking Allowed Ethnography Award prize for her fascinating new book "Loud and Proud: Passion and Politics in the English Defence League".
The award, which is run in association with the British Sociological Association paid tribute to the compelling ethnographic work that Prof. Pilkington has done on the English Defence League (EDL). Over a period of three years, Hilary gathered interviews, informal conversations and observations of over 30 EDL events to explore and explain the dynamics of the movement and their activists. The book provides an account of the various high and low points across this extended period of time, allowing Hilary to identify a high turnover of membership and activism within the group, and to represent the activists as complex characters rather than one-dimensional stereotype, placing their involvement in the EDL within the wider context of their lives.
While receiving the BBC/BSA Ethnography Book Award at the recent Annual BSA conference in Manchester, Hilary used the opportunity to emphasise the distinctive contribution that ethnography makes to social research.
Hilary Pilkington's book is open access and available to download for free. You can read more about the book's success and see an interview with Hilary on the University of Manchester news page.