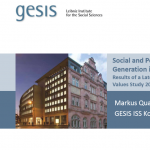 PROMISE partner GESIS presented their findings of the European Values Study on youth engagement in Cologne earlier this year. The presentation entitled "Social and Political Participation of the Young Generation in Europe: Results of a Latent Class Analysis with the European Values Study, 2008" aimed at conceptualising social and political participation that goes beyond formal/traditional participation and includes new emerging forms of engagement as well as capturing the different shades of disengagement/ passivity.
The quant team:
The presentation was delivered by Markus Quandt and Vera Lomazzi at the GESIS ISS Kolloquium on 24 January 2018 at the joint monthly lecture series discussing the work of  scholars by GESIS and the Institut für Soziologie und Sozialpsychologie (ISS), University of Cologne.
The quantitative team at GESIS is responsible for the evaluation, within PROMISE, of existing secondary data on youth engagement in Europe. The aim is to provide quantitative baseline results to support and complement the ethnographic cases studies carried out by the other PROMISE partners.
The next step for GESIS, alongside our Estonian partner from the University Of Tartu, is to generate additional survey questions to fill the gaps in the existing data. Look out for further news on this in 2018.
.
Watch out for our newsfeed twitter and Instagram for more news to come.