PROMISE is a collaborative research project exploring young people's role in shaping society, focussing specifically on young people 'in conflict' with authority.
Latest news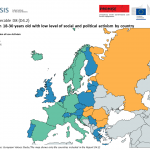 The PROMISE quantitative team at GESIS Cologne  presented their analysis of the European Values Survey (EVS) on youth activism at the "Spring Political Science Research Roundtable" on May 25 2018 in Cologne, Germany. The Political Science Research Roundtable is a bi-annual meeting of data-driven political scientists held at GESIS.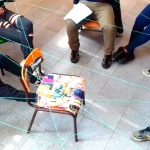 The Portuguese PROMISE case studies explored experiences of stigmatisation and conflict faced by young people living in Portugal and how they respond to these stigmatisations in socially innovative ways. Data for these two case studies were collected by the PROMISE team based at the Research Centre for Human Development of the Universidade Católica Portuguesa (CEDH-UCP) in Porto between January and November 2017.
PROMISE is funded under the European Commission's Horizon 2020 Research and Innovation Programme, Grant Agreement no. 693221.

Open all minds
Open all dreams
Research, question
Open all doors
Open all senses
Open all defenses, ask
What were these closed for?
Lemn Sissay, Chancellor of The University of Manchester